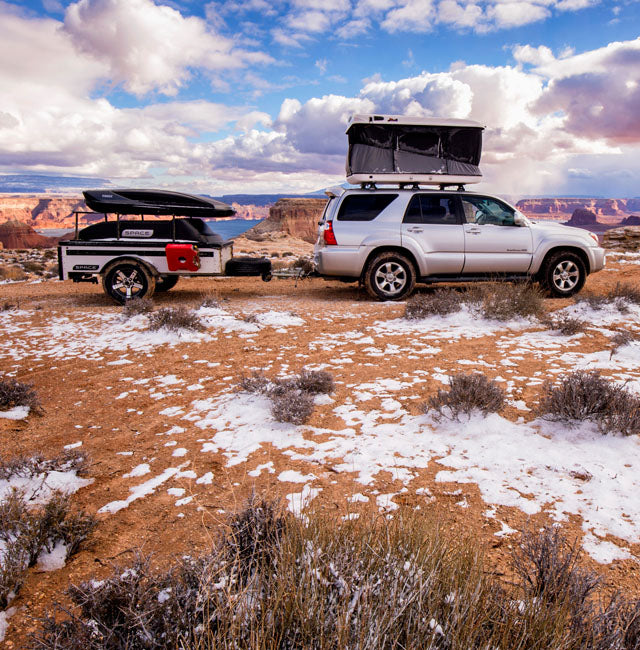 SHIPPING COST
HighRider & LowRider SPACE Trailers
$995 HighRider XL SPACE Trailers
$1795
TRANSIT TIME
Current lead time for trailers: approximately 4-6 weeks.

It could take up to two weeks to receive your trailer from the day it is shipped depending on where you live in the United States.
WHAT TO EXPECT
Shipped SPACE Trailers are vertically put on pallets and securely wrapped. All trailers come standard with SPACE Bumpers to protect the tailgate during shipment.

The trailer comes 75% assembled. The wheels are already installed on the trailer and the frame is fully built. The parts that you will need to assemble yourself are the SPACE bars, gas cylinders, canopy, and tongue.
Check out the assembly video below for more help.
LIABILITY + DAMAGES
When you receive your trailer, you must assess for any possible damage BEFORE signing for the trailer.

If you receive a damaged trailer, you should refuse the trailer at delivery. Any damages should be reported and noted in the delivery paperwork with the carrier delivering the trailer. SPACE Trailers is not liable for damage caused during shipping.
ASSEMBLING YOUR TRAILER
Once you receive your new SPACE Trailer, there is some assembly required before you can start adventuring together!

Check out the assembly video to the right for what to expect when you unload your new trailer.