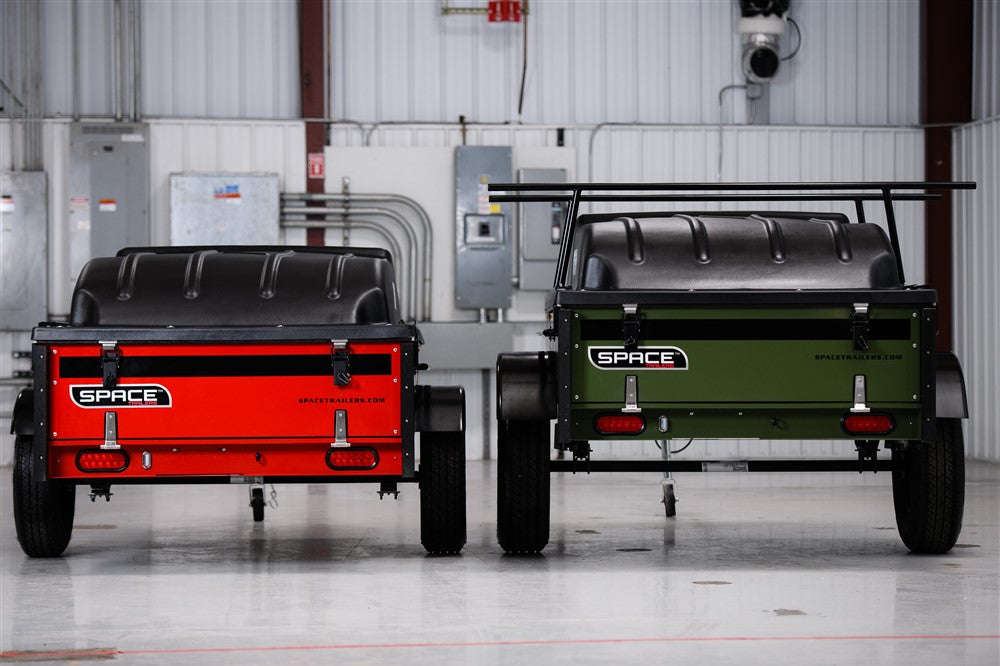 Comparing the differences between our base trailer models.
LowRider vs HighRider / Measuring Trailer Height
Your height model for your SPACE Trailer should be determined by the height of the hitch on your tow vehicle. There is no difference in clearance between the LowRider and the HighRider, as the axle remains at the same height for both.
What is the HighRider XL model?
The HighRider XL SPACE Trailer is our newest model (now available). It has the same height specs as the HighRider ST.
WHY?
It is important that the trailer remains level when on flat ground. If the trailer is not parallel with the ground, it can affect handling, braking, and tire wear. It is also vital to load weight in your trailer safely, for that and more do your safety research before driving your trailer. This is why we have multiple trailer heights to accommodate a larger array of vehicles, especially those small ones.
Step 1 - Before you Start:
You will need a measuring tape or a ruler, and a level surface to park your vehicle on. The SPACE Trailer requires a Class I (or above) 2" Ball Hitch.
Step 2 - Find your target Coupler Height
If you have a ball hitch already:
Measure the distance from the ground to base of your ball hitch (orange). This is your target height to match your new SPACE Trailer to. Move to step 3.
NEXT STEP ↓
If you DO NOT have a ball hitch:
You will need to purchase a 2" ball hitch that is Class I or above for your receiver. Every ball hitch has a "drop" most commonly between 8 and inches. 
A. Measure the distance from the top of the receiver tube to the ground. (Red)
B. Pick your trailer model below (step 3) and find it's tongue/coupler height. (Green)
C. Receiver Tube Height - Trailer tongue/coupler Height = The drop for the hitch you need to purchase. 
E.G: 21in Reciever Tube - 19in Tongue Height (Highrider ST) = 2in Drop ball hitch.
NEXT STEP ↓
Step 3 - Match your Trailer
Pick the SPACE Trailer below build that matches your target height. 
Note: If it's not a perfect match It is better to err on the side of having the trailer nose down. If it is more than a couple of inches of difference you may need to get a ball hitch with a different drop height. 
LowRider ST
13" Wheels = 14" Tongue Height
15" Wheels = 17" Tongue Height
FULL SPECS →
HighRider ST
13" Wheels = 19" Tongue Height
15" Wheels = 21" Tongue Height
FULL SPECS →
HighRider XL
(only available in 15" All-Terrain Tires)
15" Wheels = 21" Tongue Height
FULL SPECS →
You're Good to Go!
If you have questions, call us! We'd love to walk you through it or answer questions. 
HighRider XL
Are you looking for more adventures without leaving any gear behind?
Is the HighRider XL right for you?
Developed from the SPACE Trailer 6500, the all new SPACE Trailer HighRider 8500 XL has been designed for the rugged adventurer looking for more space and better travels. The SPACE Trailer 8500 XL has over 20% more SPACE than the current model! This is the largest trailer in our lineup.
The trailer is equipped with stronger welds on the galvanized steel frame, increased capacity, higher ground clearance, and continue with the same durable removable canopy. The standard features of the SPACE trailer XL include All terrain tires, heavy-duty gas cylinders, and a choice of three colors—green gloss, grey hammered, and black hammered. 
Specs:
Weight: 700lbs
Max capacity (GVWR): 3500
Tongue Length: 5 ft with additional welded support braces
Trailer box dimensions: 4 ft x 7 ft
Max interior height: 36 in
Min interior height: 32 in
Price: $8,499
Benefits:
85 cu. ft. of enclosed weather-tight storage
LED wiring with lights on side of trailer
Low price point compared to top competitor
Welded galvanized steel frame for rigidity and a long lifespan (your frame won't rust)!
Welded support for tongue storage
Powder-coated Galvanized steel box
2,300 lb carrying capacity
Gross axle weight: 3000 lbs
EXPLORE MORE TRAILER OPTIONS